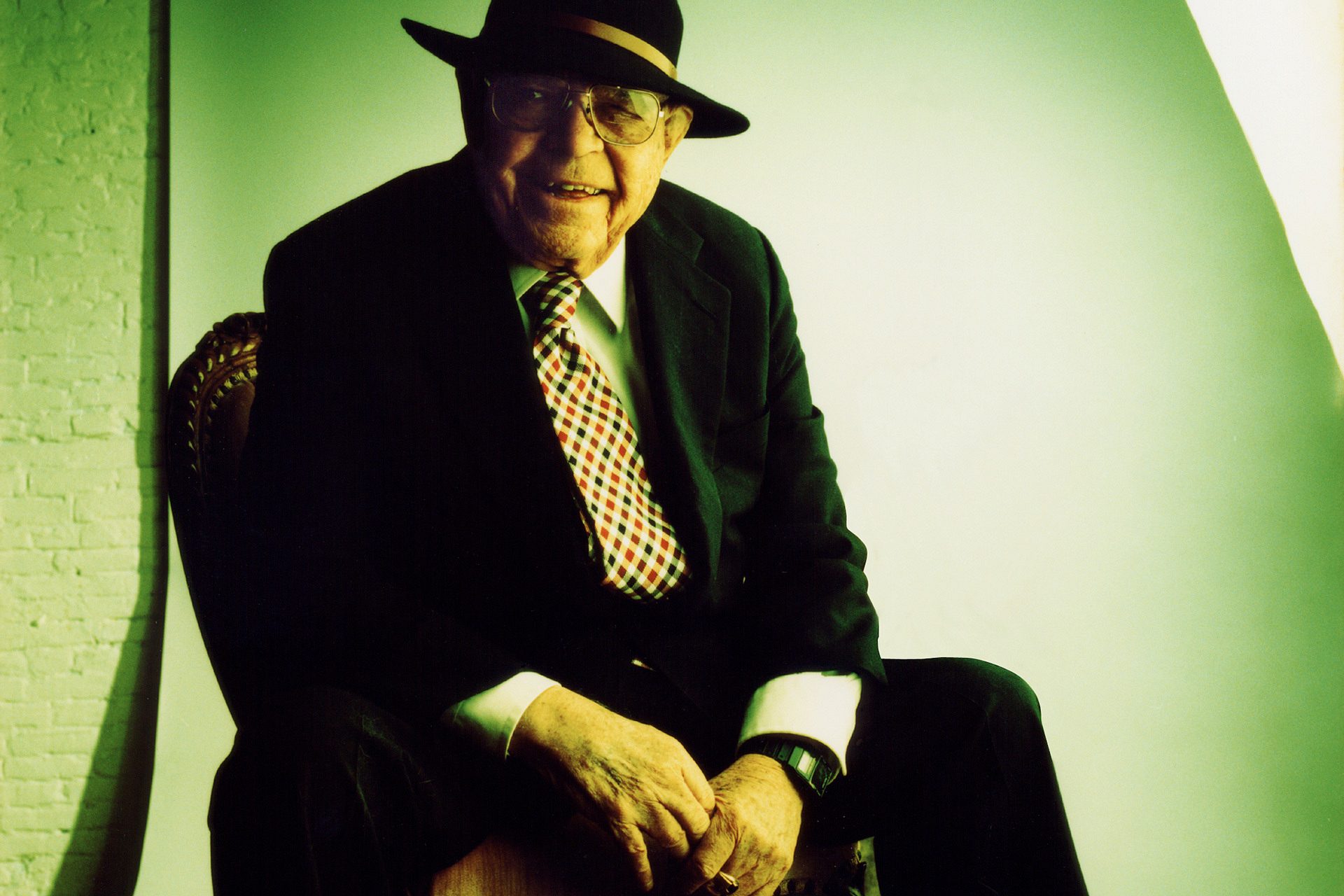 Guitar making is an art, and like all art forms, it has a rich history. One of the more important figures in that history is Ted McCarty. If you're reading this blog post, you have probably heard the name McCarty from our model lineup. We introduced the first PRS McCarty in 1994 and have since honored Ted with many instrument designs. Now, our McCarty family of guitars spans from the SE Series to our Core instruments and represents our more vintage-appointed guitars. But why did Paul Reed Smith want to name a guitar "McCarty" in the first place? Keep reading to learn more about Ted McCarty and to hear Paul reflect on their special relationship.
Ted McCarty was a pioneer of the electric guitar and the musical instrument industry. He served as Vice President of the Gibson Guitar Corporation in 1949 and as President from 1950-1966. Paul first came across Ted's name in the US Patent office in the early 1980's. Here is how Paul tells the story:
Paul Reed Smith: "I first learned of Ted McCarty in the patent office. In those days, you didn't look through the computer – you went into the office and collected big batches of patent documents, and you flipped through them like records in a record bin. So I was there looking for previous patents that related to my Compensated Nut patent in the "Electrical Musical Instruments" section, and I kept pulling out the patents I had seen on my bench in my repair shop. They mostly had two names on them: Leo Fender or Ted McCarty. And I was like, "who is Ted McCarty?" I knew who Leo Fender was, and the others were clearly Gibson-related patents: the Tune-O-Matic bridge patent, the Les Paul patent, and many others, that listed "Ted McCarty, Kalamazoo, Michigan" as the inventor. At the time, almost nobody knew his name, and nobody knew the Gibson straight bridge was internally at Gibson called the McCarty bridge. We're talking about the early 1980's. Anyway, I made copies of a bunch of patents on the copy machine and took them back with me."
In addition to the Les Paul and Tune-O-Matic bridge, McCarty was also responsible for several other patents and innovations, including the humbucking pickup (with Seth Lover), Explorer, Flying V, SG, ES 335, and Firebird to name a few. Not a bad resume!
Fast forward to 1986 – year two of PRS Guitars…
Paul Reed Smith: "We were sitting in the beginning of PRS, and I remember it was cold because when we would open the door, we had to put our coats on because our desks were right next to the garage door. My desk was right next to Clay Evans (PRS Vice President of Sales at that time), and I said, "I'd like to talk to Ted McCarty." Clay said, "Call him." I said, "I can't call him!" And Clay said, "Call him! What's he gonna do? Not pick up the phone?" So, I called him up, and he did pick up the phone. I told him who I was and what I was doing. He was mildly interested, and I asked him if I could hire him as a consultant. He said, "No. I can't fly." So, I just said, "Can I visit you?" I went to visit him two times in Michigan, and I asked him everything. I drilled him! He had so much knowledge and good information for me.
"What kind of glue did he glue the frets in with? (Spoiler alert: It was fish glue. Paul tried it once, and it stunk! We never used it again). How did they glue the tops on? How did they glue the necks in? How did they level the fingerboards? How did they dry the fingerboards, the necks?
"I must have asked him everything, and at the end of the second day, he got really angry and I said, "What's wrong, Ted?" And he said, "Nobody has asked me these questions in thirty years. It's how I made my living, and nobody has been interested. You're the first person to ask me. Everyone else asks how to get rich quick…do you know where I can find an old Les Paul, Flying V, Explorer? Nobody asked me how I made my living." Quite frankly, he was pissed no one had called to ask him. After all these interviews and the subsequent week of interviews at his home in Maui, I knew everything he remembered."
And in 1994, the first PRS McCarty model was introduced. Paul named the guitar after Ted McCarty because it embodied all the things Ted had confirmed for him about good guitar making.
Paul Reed Smith: "David Grissom came to us and said, "I want a guitar that sounds like Duane Allman Live at the Fillmore," and we designed the McCarty. When I told David I wanted to name it the McCarty model, he generously agreed. He thought it was the right thing to do. We didn't know the DGT was coming at that point, and I thought it was very gracious of David."
Over the next decade, Paul and Ted would talk many times and make it a point to meet in person several times as well. Paul went to stay with him in Hawaii for five days after the initial two trips to Michigan (McCarty split his time between the two locations every year). Ted eventually visited the PRS Virginia Avenue shop in Annapolis, was PRS Guitars' guest at the NAMM show in the 1990's, and also made it to PRS Guitars current shop in Stevensville, Maryland in 1997 to contribute to a promotional video with Carlos Santana, Tim Mahoney, and several PRS employees.
Paul Reed Smith: "When he came to the shop on Virginia Avenue, I took him into the back with everyone, and I asked him about pickups. He said, "I told my engineer to make something to buck the hum." We all starting howling – we were standing with the guy who named the humbucker! (Seth Lover was his engineer).
"He also came to a few tradeshows (the Dallas Vintage Guitar Show and Winter NAMM), and he roomed with me a few times. I would wheel him around the booths, and people would come out of the woodwork and kneel down to meet him. It was very moving. Before all this, Leo Fender and others would often come by our booth and pay their respects and tell me "You're doing a good job. Don't stop." But, by now, Ted was with us – he was involved. We all adored him and believed he handed us the baton. He sat for dozens of interviews for the press at those shows over the years."
In addition to guitar making, McCarty was also a touchstone for Paul on leading a manufacturing company. Before moving PRS across the Chesapeake Bay from Annapolis to Kent Island, Paul asked Ted for advice on how to move a factory.
Paul Reed Smith: "I asked him to give me advice on how to move a factory – he had done it 3 times! He told me, "You're going to get pissed off. Keep your cool." I thought he was going to tell me something about how to pack the machines and set them back up, but he was talking to me emotionally as a leader. Beyond business and guitars, he really became like a grandfather to me. I went to his 90th birthday party. I sang to him in the hospital when he was dying. I still talk with his daughter, Sue, and we have his signed agreement – it's a contract in our safe – that PRS be his guitar maker. So here we are."
Ted never played guitar, but he would interview all the artists every year in New York City and listen to what they wanted, and he would listen to the market to gauge the acceptance (or not). The Kalamazoo Gibson plant knew about how to dry wood, where to put the frets, how to design a bridge, etc.
Paul Reed Smith: "I ate everything Ted said like food because it was our history. Did he know his business? Oh my god, did he. Was he a good guitar maker? Brilliant. Did he know guitars? Absolutely. Was he the leader of the industry at the time? Yeah. For this company, the miracle was not that we got this grandfather – that was special to me personally – for the company, it was that he endorsed us as guitar makers. He said I am going to tell the world that I believe in the guitars and the people at PRS.
"Here was the magic of it. I made a deal with him. "You tell us everything, and I'll make you not the forgotten man." He said, "OK – it's a deal." And he kept his word, and we've kept ours."
From everyone at PRS, thank you, Ted. You will never be forgotten.
https://www.prsguitarseurope.com/wp-content/uploads/2023/03/ted-mccarty-with-signatures.jpg
1935
1920
SJ
https://www.prsguitarseurope.com/wp-content/uploads/2014/06/340-300x137.jpg
SJ
2023-03-16 15:00:10
2023-03-09 18:01:16
The Unforgotten Man: Ted McCarty and His Impact on Paul Reed Smith